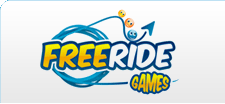 In 2010 there were over 250 million casual gamers worldwide, 141 million of those in the US.
Source: International Gamers Survey 2010, Newzoo
As the only online destination for 100% free full version PC casual games, Free Ride Games is visited each month by millions
of visitors.
By promoting our site via our Affiliate
Program, you too can cash in on the online gaming boom by earning a commission on every new Free Ride Games player your program generates.

Join our Affiliate Program for free and refer players to Free Ride Games to start earning your commission! Simply click on the "Apply Now" button to get started.
Once registered, you will be able to access our online Affiliate management interface and enjoy:
More efficient monetization of your website traffic by choosing the Affiliate offer that best suits your audience.
Managing your account online using a reporting feature that's both comprehensive and easy to use.
The ability to Geo-target your offers (US, UK, CA, AU).
The ability to customize your Free Ride Games
Affiliate campaigns using a great selection of
marketing materials, including landing pages, banners and text links.