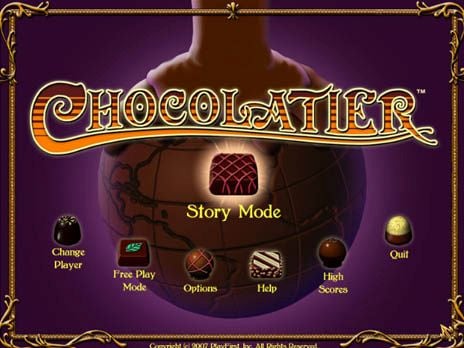 In the wonderfully arty business
simulation
game
Chocolatier
, your challenge is to travel the world in search of new and exotic ingredients with which to produce the most delectable chocolate treats imaginable and make a sweet profit. The game is set in 1880, after famous chocolatier Evangeline Baumeister's company was run to the ground by her younger sister. It is up to you to resurrect the fledgling business, restore honor to Baumeister's recipes and expand the company into a worldwide empire.
As you travel the globe and meet with colorful characters to source the finest ingredients like coffee and cacao beans, sugar, fruits, nuts and spices and fruits and nuts, you must bargain with the merchants for the best possible prices since you have a budget you must keep to. You must also collect new recipes along the way to make sure your product line is trendy and diverse. With 64 recipes in total for such delights as Colombo Cacao Coffee Caramel Truffles, Mint Chocolate Infusions and all manner of irresistible chocolate bars, you'll have your work cut out for you as you source and purchase all of the relevant ingredients, and then produce them in your various factories. You'll also have to deal with suppliers and vendors, and keep adversaries in check, too.
With around 130 increasingly challenging quests it should be rewarding to see your bank balance grow as you become a master Chocolatier!
Download
Chocolatier
for FREE and enjoy:
2 modes: Story and Freeplay.
130+ quests through 14 cities.
64 recipes to acquire.
Wonderfully artistic styling.
Delightful music that changes depending on the port you dock in.