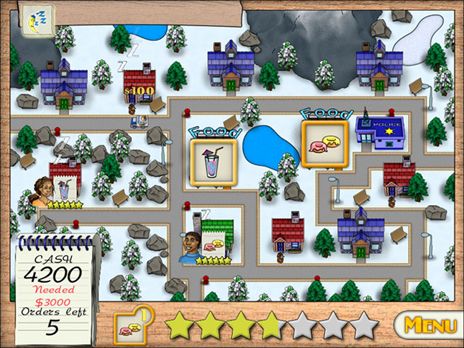 It ain't easy being a delivery guy, and especially when you're the hero of
Time Management
game
Delivery King
, who as it turns out needs to earn some serious cash because his parents have spent his entire college fund! And while it's not particularly glamorous earning your keep being a delivery guy, at least it's a fairly simply job. Right?
Wrong! As you assume the role of this poor fella, you must zip around town delivering food to customers who apparently don't have all day to wait. If any of the deliveries are delayed, they will come out of your own pocket. And as if that's not bad enough, there are also thieves prowling around the neighborhood trying to steal the food!
Despite the sorry predicament of the game's hero,
Delivery King
is actually lots of fun and surprisingly addictive. At the very least, it will give you a new appreciation for those who deliver your take-out!
Download
Delivery King
for FREE and enjoy:
60 levels
Four bonuses
Two bonus games
Eight special characters
Similar Games

Burger shop 2

Snow Globe

Youda Survivor

Jo's Dream: Organic Coffee