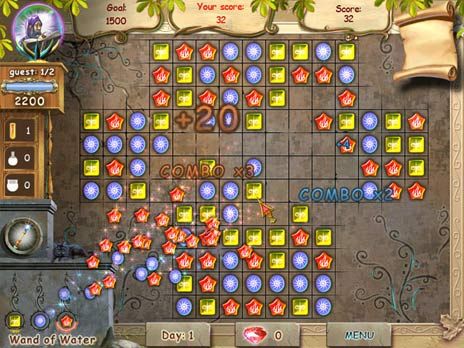 What's for sale in the Magic Shop? Whatever you can imagine! Long ago, an elf named Loriel created and sold artifacts in a cozy little shop. When he moved away, there was no one to take over. It´s your challenge now to re-open the shop and return it to its former glory.
In Magic Shop, customers enter your store and order artifacts. Your job is to make the items by clicking on groups of matching elements. If your guests have to wait too long, they become impatient and will eventually leave. Not to worry, though. While playing, you can collect rubies with which you can purchase enchantments that will make your patrons happy again. You can also use spells that will help you collect the elements you need. As simple as tapping your mouse and as beautiful as a spring day, Magic Shop will charm you from the moment you begin playing!
Download Magic Shop for FREE and enjoy:
Tons of bonuses.
Six different spells. 15 artifacts to investigate.
Seven special characters to unlock.
Unlimited game time.