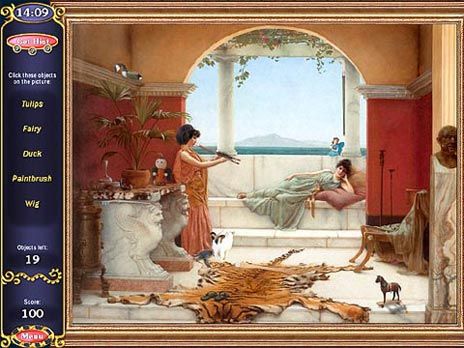 Secrets of Great Art
begins with your hero waking up, lying on the floor in a deserted room with boarded up windows and a locked door. He has no idea where he is or how he got there but he immediately starts looking for a key to open the door. No key can be found but suddenly the pictures on the walls draw his attention.
The beautiful paintings appear to be famous ones like Dolce far niente by John William Godward and Harem Women Feeding Pigeons in a Courtyard by Jean-Léon Gérôme but something is off about them; they appear to have extra objects in the paintings, which clearly shouldn't be there.
And so this
Hidden Object
game begins. With a mysterious and captivating storyline, the game unfolds as your hero looks at painting after famous painting, each with a unique list of hidden objects to be found.
Download
Secrets of Great Art
for FREE and enjoy:
Tons of hidden objects.
60 unique levels.
Real paintings.
Unravel A Mysterious Story.