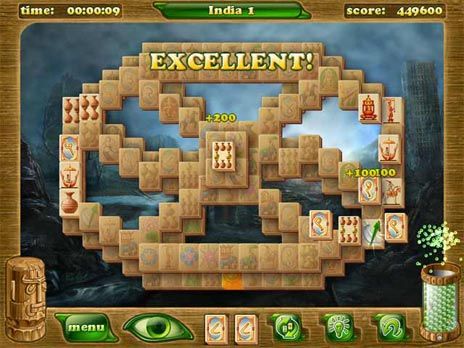 Mahjongg game play originated back to China over 2 thousand years ago, so the fact that the PC version is such a favorite among casual gamers today can only mean one thing - Mahjongg games have been, are and always will be super popular, and
Mahjongg Artifacts 2
- the sequel to the smash hit tile-matching Puzzle game Mahjongg Artifacts - doesn't disappoint.
Like its predecessor,
Mahjongg Artifacts 2
is based on the same game play principles: You must remove randomly placed tiles from a puzzle in matched pairs until the board is completely cleared. Although it may seems like there's nothing to it, the puzzles are challenging and the layouts are mesmerizing, with beautiful iconography, subtle animations and a delightful musical score that changes based on the country in which each puzzle is set. There is also a pearl-spending mechanic whereby you can collect pearls and spend them on hints, the ability to undo moves or to shuffle the board.
If you're a fan of Mahjongg games but haven't played this one yet, you really must. And if you've never played a Mahjongg game in your life, you owe it to yourself to find out if you're a Mahjongg devotee at heart!
Download
Mahjongg Artifacts 2
for FREE and enjoy:
The complete Quest mode.
99 levels in Classic mode.
Unlimited time in Endless mode.
Five beautifully designed tile sets.
Puzzle layouts set in different countries with a matching soundtrack!