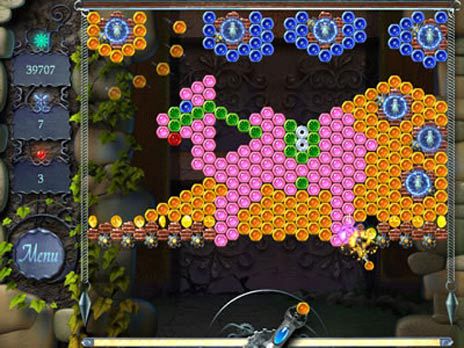 In
Fairy Jewels
, an evil wizard has captured the adorable fairies of Fairyland and locked them up in his dark castle. It's your mission to rescue them and return them to Fairyland by completing a journey that will take you across 15 chapters and 150 levels of play. Giants, goblins, dragons and castles all await you as you make your way through this action
Puzzle
game!
To progress through the game, you'll fire a gem from a cannon perched at the bottom of the screen and hit two or more same-colored gems to make them disappear and clear a path to the bubbles in which the delicate fairies are trapped. If you fail to hit a same-colored gem, then the gems on the screen multiply and block your clear shot towards the bubbles, thwarting your progress in the game. You also need to work fast because if you fail to free all the fairies within the time limit, the level ends and you lose a life.
Another aim in the game is to collect coins blocked by clusters of gems. If you blast a cluster away and a coin is released, you can add 1,000 points to your score by catching them.
Fairy Jewels
is super addictive and will entertain the whole family.
Download
Fairy Jewels
for FREE and enjoy:
150 levels Point-boosting bonus items
Intuitive play
Highly addictive action
Gorgeous graphics
Family-friendly fun