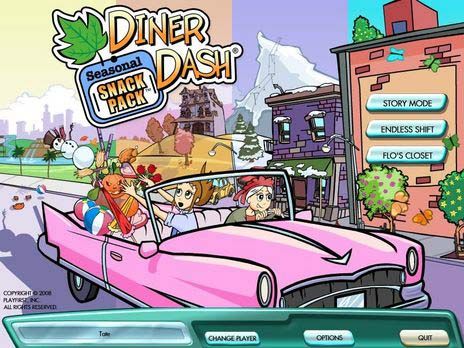 InDash®: Seasonal Snack Pack™, stroll down memory lane with Grandma and Flo as they reminisce about their favorite seasons. If you think the denizens of Dinertown like to have a good time when they stop by Flo´s, you should see them really party! Journey through the seasons with stops at five new restaurants: Coral Cove Café (in Waterpark Madness), Crypt Café, Hometown Harvest, Winter Wonderland, and Romantic Rendezvous.
Download Diner Dash - Seasonal Snack Pack for FREE and enjoy:
5 new restaurants with 10 levels each.
Splash into summer at the Coral Cove Cafe in Waterpark Madness
Sneak into a ghoulish adventure at the Crypt Cafe.
Help Flo and Toshiro save Thanksgiving in Hometown Harvest.
Spread a little holiday cheer on the slopes in Winter Wonderland.
Cozy up at the Romantic Rendezvous restaurant.