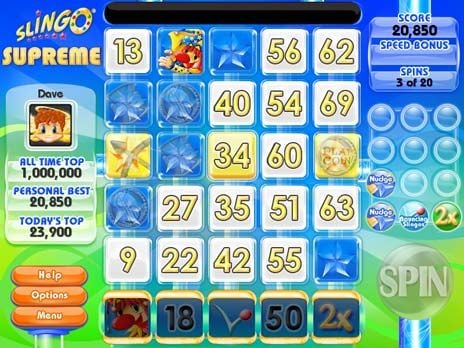 Slingo Supreme is the sequel to Slingo Deluxe that is packed with even more Slingtastic fun. It features a new and innovated Supreme mode that lets you build over 16000 different Slingo games. It also contains an infinite amount of Daily Challenges, new Powerups like Reel Nudge and Instant Slingos, and introduces the long awaited Devil Mini Games. Now you can finally take on that Devil and beat him at his own game!
New Supreme mode, build your own Slingo game.
Over 16000 different levels can be created.
Unlimited daily challenges.
Beat the Devil in minigames.
New powerups.
Slingo Awards!
Multiple top ten lists.
Advanced help system.
Classic Slingo included.
Similar Games

Slingo Quest

Slingo Quest: Amazon

Slingo Quest: Hawaii

Pirate Solitaire