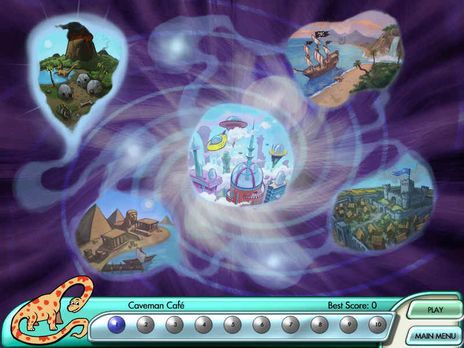 Diner Dash™ Flo Through Time™ includes five Diner Dash restaurants, allowing you to enjoy additional levels and episodes with the Diner Dash characters and time-management game mechanic you´ve grown to love. In Diner Dash™ Flo Through Time™ join Flo and your favorite DinerTown™ residents on a hilarious, harrowing, and heroic journey through the very fabric of time! Think you´re good at time-management? Play this all-new episodes collection and become the best DASH™ game player of all time!
Download Diner Dash 4 - Flo Through Time for FREE and enjoy:
Serve up sizzling saber tooth burgers in the Caveman Café.
Feed the Nile in style at the Pharaoh´s Feast.....
Doth thou want fries with that? Chivalry lives in the All Knight Diner.
Feed th' crew or walk th' plank in the Buccaneer Bistro. Yar!
Join the sky-high futuristic fun-fest in the Snack to the Future Diner.