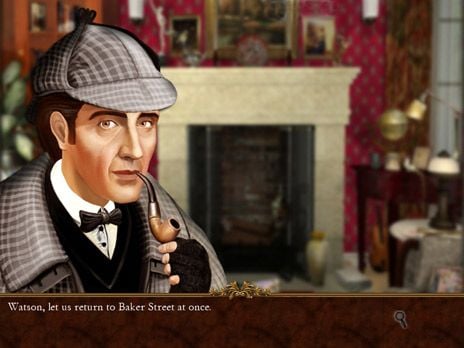 Work with Sir Arthur Conan Doyle's famous literary creations, detective extraordinaire Sherlock Holmes and his trusted colleague, Dr. Watson, to unravel 16 intriguing mysteries in this delightful
Hidden Object
games. As you play through
The Lost Cases of Sherlock Holmes
to solve the cases of The Vanishing Actress, The Death Card Devil and The Maestro's Violin, The Assassinated Aerialist, and others, you'll have to find a variety of objects that the detective duo will need in order to piece together clues and figure out "Whodunit?" for each case.
The levels are timed and clicking on incorrect items will cost you time off the clock so you'll need sharp eyes and lots of focus to complete your missions effectively. But don't worry, Holmes and Watson will pop up from time to time to give you some handy tips. You'll get to investigate for clues in about 40 different spots all over London so with all those cases to solves and plenty of fun mini-games in between levels,
The Lost Cases of Sherlock Holmes
promises to deliver hours of
Hidden Object
fun.
Download
The Lost Cases of Sherlock Holmes
FREE and enjoy:
We loved the clever dialogue and competent voice acting.
16 intriguing cases involving mysteries that range from theft to espionage to ancient curses and, of course, murder.
Explore over 40 different beautifully rendered locations such as Picadilly Theater and the Egyptian wing of the British Museum.
Clever storylines and entertaining dialog featuring well known regulars from the original stories such as Scotland Yard's Inspector Lestrade and Sherlock's older brother Mycroft.
Solve dozens of puzzles and mini-games where you search for relevant clues, not random objects. Solve unique Sudoku-like puzzle to reveal the culprit.