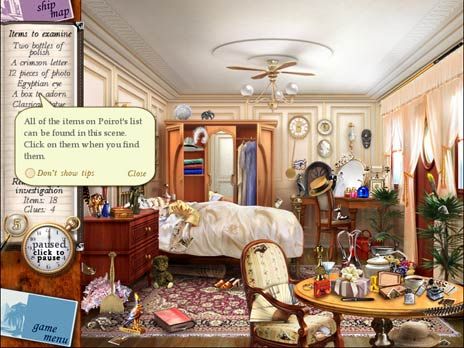 Acting as the famous detective Hercule Poirot, you find yourself in the middle of a murder mystery while sailing the Nile on the S.S. Karnak. It´s up to you to navigate the ship room by room seeking hidden objects and collecting clues which will lead you to the culprit in
Agatha Christie: Death on the Nile
!
Enjoy this crime solving
Hidden Object
game, which presents the classical story in a completely new way. Navigate through the ship´s 24 rooms while piecing together clues and evidence you reveal. Twelve investigations, fourteen interrogations and multiple mini-games that help you, Poirot, solve the case. You won´t want to turn away from this classic and compelling Agatha Christie™ tale.
Download and Play
Agatha Christie: Death on the Nile
for FREE and enjoy:
12 investigation levels.
24 rooms filled with hidden objects, clues, and hard evidence.
14 suspects to interrogate.
Multiple mini-games to help solve the ultimate crime.
Beautiful graphics with amazingly detailed 1930´s styled rooms.