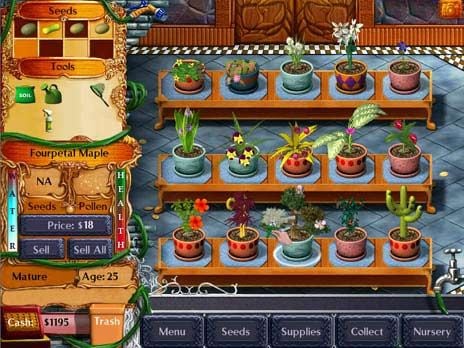 Plant Tycoon
® is a gardening simulation game where you nurture plants and experiment with increasingly rare and valuable species. Breed and cross breed plants until you find the 6 Magic Plants of Isola and solve the genetic puzzle. Start with a small amount of cash, a handful of seeds, and some basic soil and water. Grow plants, organize and harvest seeds, monitor your plants´ health, age, and maturity, and protect your plants from dehydration and infestations. Sell some of your creations to fund your research, buy better supplies to use in your nursery, and purchase improvements and ornaments to customize your virtual garden. Can you find the 6 Magic Plants of Isola?
Download
Plant Tycoon
® for FREE and enjoy:
Over 500 different species of plants to discover.
A wide variety of collectible insects to retrieve.
Dozens of different kinds of seeds to experiment with.
Prune your plants to remove dead foliage and customize the look of your creations.
Gorgeous artwork with detailed, dynamically-generated plants.