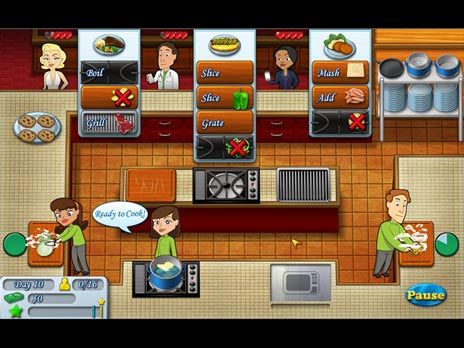 Congratulations, you have been selected as a contestant for the TV show Kitchen Brigade! That means that over the next 66 days, you must successfully open and manage 7 different restaurants.
Manage your 3 chefs in order to serve your customers efficiently. When the orders start piling up, give your chefs a hand by playing cooking mini-games. Serve enchiladas, clam chowder, chicken satay, and over 50 other recipes. Build the perfect kitchen by adding grills, ovens, mixers, and much more. It´s up to you to win the Kitchen Brigade TV Competition!
Download Kitchen Brigade for FREE and enjoy:
66 Story Mode levels.
66 Master Chef levels.
6 challenges.
Over 50 unique recipes.
17 trophies to collect.
Similar Games

Burger shop 2

Snow Globe

Youda Survivor

Jo's Dream: Organic Coffee