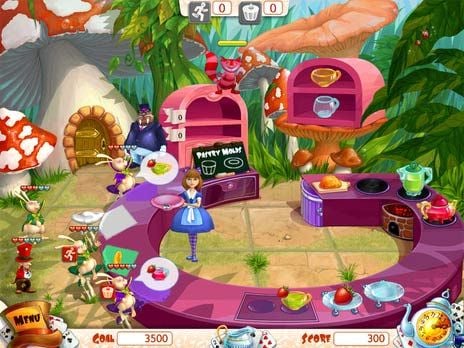 Who doesn't want to go down the rabbit hole for some fun-filled adventure and mystery? Luckily
Alice's Tea Cup Madness
promises just that. This
Time Management
game sweeps you off your feet and into Alice's imaginary world.
Poor Alice! After chasing the white rabbit she has fallen down the rabbit's hole and now, in order to get back to her own world, she must cross the field of flowers, and that costs a fair bit. In order to earn money, Alice and the rabbit decide to restore the old tea house and start selling tea and pastries to magical creatures.
In this extremely addictive
Time Management
game, where the aim of the game is to make as much money as possible, your customers are the White Rabbit, Flamingos, Mad Hatter, Girl Flower, Queen of Hearts, Cheshire Cat, Card Guard and Lazy Caterpillar. Sounds like madness, right?
Download
Alice's Tea Cup Madness
for FREE and enjoy:
8 Fun-loving characters to serve based on Lewis Carroll's beloved classic Alice's Adventures in Wonderland.
Over 35 food-related upgrades to give your customers more pastry and tea options.
More than 30 tea house upgrades to keep your customers happy and earn bigger tips.
3 unique mini-games that will help increase your overall score.
Five tea house locations to master.
Similar Games

Burger shop 2

Snow Globe

Youda Survivor

Jo's Dream: Organic Coffee