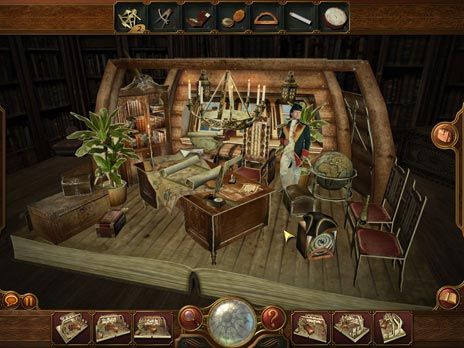 Watch classic tales come to life in
Paige Harper and the Tome of Mystery
, an immersive 3D experience where you twist, turn, and zoom in to locate hidden objects!
One night while working late, Paige Harper stumbles upon a secret library and becomes trapped within a magic book. Her only way out is to travel through the seven timeless stories contained in the tome, but they are all out of place! As Paige visits some of the most famous literary works of all time - such as Hamlet, Treasure Island, Romeo and Juliet, Treasure Island, 20,000 Leagues Under the Sea, and so on - she must help the characters solve their problems in order to progress.
Each of the unique 3D scenes in this stunning
hidden object game
is designed as a pop-up section of a book, and six buttons along the bottom of the screen allow you to look at the book from different angles and see it from completely different perspectives. Each tale features interactive environments to search through and contextual mini-games including jigsaw puzzles, Match-3 boards, and word games. Use inventory items to solve problems, unlock bonus play modes and live the stories-within-a-story.
Can you reveal the secrets of this mysterious tome and save Paige?
Download
Paige Harper and the Tome of Mystery
for FREE and enjoy:
Follow the stories-within-a-story in a one-of-a-kind Hidden Object adventure.
Watch seven classic tales come to life in unique 3D scenes.
Twist, turn, and zoom in to locate hidden objects.
Search interactive environments and play contextual mini-games.
Learn fun facts from your favorite Hollywood blockbusters.