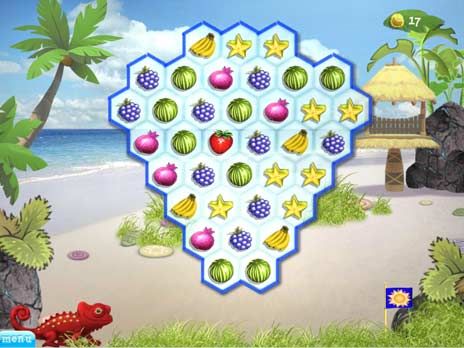 With its vibrant graphics and simple gameplay mechanics,
Tropix 2 - The Quest for the Golden Banana
combines a bunch of casual game genres in a game that is specifically designed to appeal to younger players - or the young at heart!
The game follows the efforts of a loveable monkey and his animal pals in their attempt to keep a treasure map out of the hands of evil pirates. The game unfolds in a series of island locations, including Shipwreck Shoal, Mermaid's Palace, Danger Island, etc. Each location is accessible from a beautifully drawn map 'menu screen' and each isle involves its own activities, challenges and power-ups. You can choose the order in which you wish to tackle them, and each time you complete an activity, you earn sand dollars that can help you advance through the game!
Finally, one of the truly fun aspects of is that the game combines a few favorite casual game genres like
Time Management
,
Hidden Object
games and
Puzzle
games. There's literally something for everyone to enjoy!
Download
Tropix 2 - The Quest for the Golden Banana
for FREE and enjoy:
Stunning backgrounds and slick animation.
Varied gameplay combining several casual game genres.
Loveable characters.
Numerous activities to enjoy.
Collectible goodies.
Photo sharing feature.