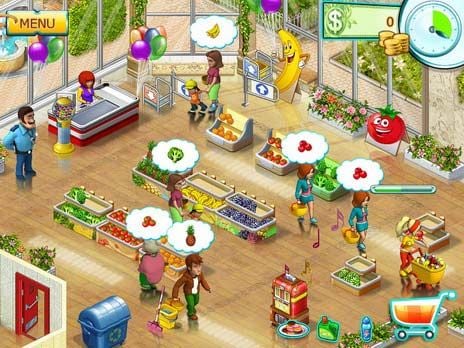 Grocery shopping at the supermarket can be challenging enough, so imagine what it must be like to experience the supermarket not as the shopper, but as the manager! Actually, no need to imagine, get a glimpse into the fast-paced world of a supermarket manager in the sequel to
Supermarket Mania
:
Supermarket Mania 2
!
Open new stores on a sunny beach, a busy ski resort and the tallest building in town. Master new game mechanics as you stock shelves, make milkshakes, brew coffee, bake croissants, squeeze fresh juice, and serve fresh pizza. Hire assistants to help you keep your customers happy, purchase over 200 upgrades, deliver goods in the neighborhood, battle shoplifters and serve impatient celebrities in this delightful
Time Management game
. After you play
Supermarket Mania 2
, you'll never look at grocery shopping quite in the same way again!
Download
Supermarket Mania 2
for FREE and enjoy:
80 levels.
200 upgrades.
Interactive tutorial.
Hand-drawn story scenes.
Family-friendly gameplay.
Similar Games

Supermarket Mania

Island Tribe 3

Turbo Subs

Burger shop 2