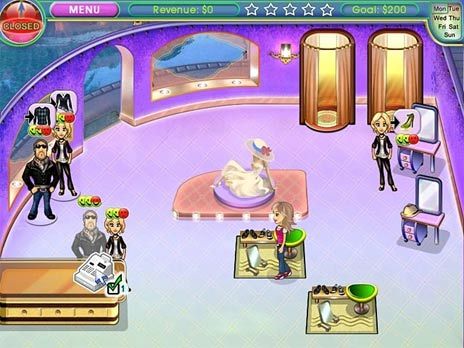 While en route to her vacation, Alice wins the worldwide in-flight lottery. What a way to start a holiday! Now she has the means to take her business to a new level by branching out her Posh Boutique worldwide, and she needs your help to do it.
If you enjoy
Fashion Games
or a good customer service type
Time Management
challenge, you'll have a blast in
Posh Boutique 2
. Serve all sorts of customers (including demanding VIPs!), pick out the perfect outfits for them, offer them discount coupons to keep them happy and try to serve them quickly and efficiently so that they don't become impatient. You'll have a variety of fitting stations at your disposal, each stocked with clothing, headgear, footwear, eyeglasses, suitcases accessories and more. Drag a customer to the fitting station and click him to see what he wants. Plus, you'll need to keep the place clean, hire staff and stay focused on raking in the big bucks to upgrade your store and watch your business flourish!
Download
Posh Boutique 2
for FREE and enjoy:
Play the exciting sequel to Posh Boutique.
All-new mini-games to play.
Challenging Hidden Object and V.I.P. bonus rounds.
Increase sales by decorating store windows.
Addictive time management gameplay.
Similar Games

Burger shop 2

Snow Globe

Youda Survivor

Jo's Dream: Organic Coffee