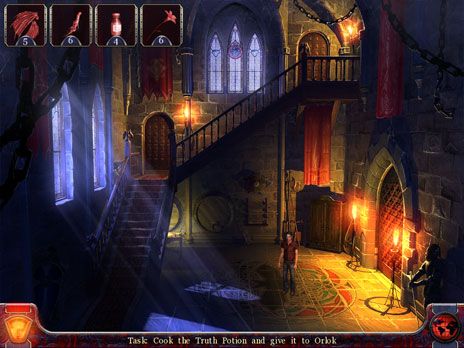 In
Sinister City
, John's bride, Nina, mysteriously disappears one morning. The groom's investigation uncovers that his beloved's tracks lead to a mysterious city full of horrible rumors. John arrives in the mysterious Sinister City and finds it inhabited by vampires. His bride-to-be has been kidnapped by the most powerful and terrible vampire in Sinister City: Count Orlok!
Prepare to travel to the astral plane, ancient castle corridors and many other places in this
Hidden Object
game as you attempt to help John rescue poor Nina. Different characters will lend a hand along the way: a strange hotel clerk, a renowned film director, the Luis Lumiere's great-great-grandson, a noble Transylvanian and even the count's wife. Help John save his bride, before it's too late!
Download
Sinister City
for FREE and enjoy:
Gorgeous Hidden Object scenes
Plenty of exciting levels, full of intrigue
A lot of items and clues to find
Fantastic puzzles to solve