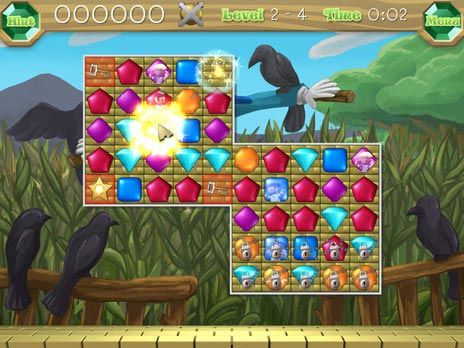 In
The Wonderful Wizard of Oz
you get to go back to the whimsical world of Oz, in which the Wicked Witch of the East now gone and it's your duty to free the remaining Munchkins from their jeweled prisons. While you're at it you'll also have to help the Scarecrow find his brains, the Tin Woodsman find his heart and the Cowardly Lion find his courage!
In typical
Puzzle/Match 3
gameplay, you'll be presented with a 2D board that changes layouts with each level, in which your goal is to swap gems and create vertical or horizontal lines of three same-colored gems or more in order to clear them off the board and make room for more jewels to take their place. Each time you free trapped munchkins, they will fall to the ground, yell with excitement and run off screen which is highly entertaining.
Throughout this colorful and addictive game you'll be treated to excerpts from the story, hand-drawn backdrops and wonderfully written and performed orchestral music. Are you brave enough to face the Wicked Witch of the West and the great and terrible Wizard of Oz? Only you can help Dorothy and Toto find their way home!
Download
The Wonderful Wizard of Oz
for FREE and enjoy:
Relive the classic story
Smooth, fun match-3 gameplay
Amazing Oz-themed graphics
Move pieces diagonally
Beautiful classical music