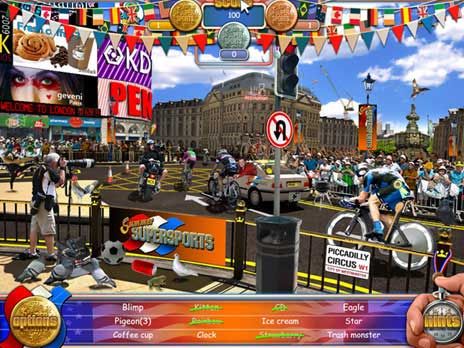 Summer SuperSports
is a superb
Hidden Object
game with lots of mini-games and puzzles. Go to the airport, get on the plane and join Mike and Sally on an amazing vacation. Collect all kinds of things including gold, silver & bronze medals scattered around fabulous sports arenas and stadiums.
The game begins with Mom, Dad, Mike and Sally driving to the Airport and checking in. They get on the plane and watch the captain talking to air traffic control. When they get to London, Dad buys tickets to see a bunch of sports events. But these aren't just ordinary tickets, they're multi-entry tickets which means you can go to all of the fabulous sports events in the game more than once. Watch baseball, basketball, the marathon, athletics, tennis and swimming. See beach volleyball, cycle racing, and golf, too. Go to the Athlete's Village. Ride the subway to the mall to buy some souvenirs.
Summer SuperSports
is cram-packed with hours and hours of gameplay for players of all ages and a game not to be missed.
Download and Play
Summer SuperSports
for FREE and enjoy:
Exciting family entertainment.
Fabulous hidden object scenes.
Amazing and colorful graphics.
Lots of fun packed mini-games.
Hours of outstanding gameplay.