We always recommend that you have the latest player installed. We are always striving to fix small bugs and improve the player functionality.
We also regularly develop new features that we hope you will enjoy as well as utilize to make your gaming experience more enjoyable.
Just click the "Update" button within the "New Player, New Features" notification window that appears and follow the instructions.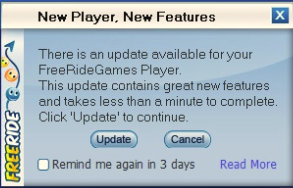 After you update be sure that you restart your computer. (This is VERY important!)
If you closed that notification window, you can always click here to download the latest FreeRide Games Player.