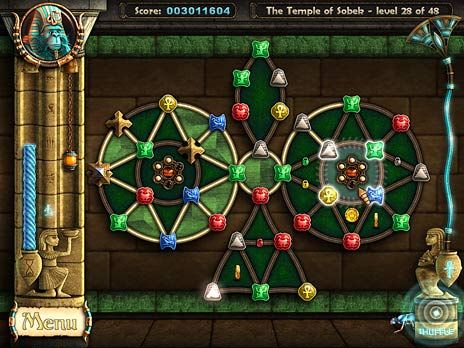 In the stunning
Match 3
puzzler
Ancient Quest of Saqqarah
your mission is to prevent the evil ancient Egyptian god Seth from breaking out of his magically-sealed tomb. In order to stop him from wreaking havoc on the word, he was imprisoned there by seven ancient deities deep beneath the pyramid of Saqqarah.
You must descend below the desert sands to explore the secret oasis beneath and unlock treasures while contending with Seth's minions who defend him fervently and will do everything within their power to prevent you from succeeding in your epic quest. As the Chosen One, it is up to you to defeat them in more than 500 unique levels, gaining power ups and unlocking secret levels along the way.
With 7 different kinds of puzzles, 500 levels, numerous power ups simply begging to be unlocked, and fast-paced gameplay,
Ancient Quest of Saqqarah
offers a one-of-a-kind experience that almost anyone is bound to enjoy.
Download
Ancient Quest of Saqqarah
for FREE and enjoy:
7 different puzzle mechanics.
Hidden object bonus rounds.
Over 500 hand-crafted levels.
Superb, high definition graphics with cinematic effects.
Earn ranks, trophies and magic powers.