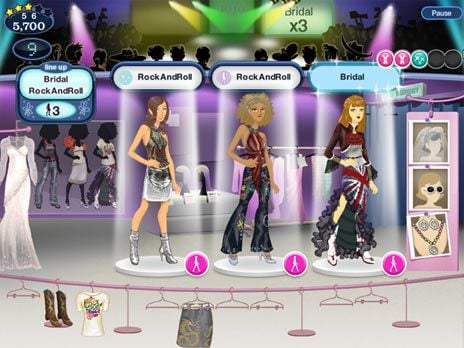 Are you a closet stylist? Think you've got what it takes to transform an ordinary girl into a head-turning style icon? Whether you're a Vogue devotee or simply appreciate beautiful fashion when you see it, the smash hit
Time Management
game
Jojo's Fashion Show
is sure to bring out (or show off) the fashionista in you!
Back in the day, Jojo Cruz made a name for herself in the fashion world for her talent at matching contrasting styles. Having just come out of retirement at the request of her daughter Rosalind - another up-and-coming young fashion star - their plan is to take the fashion world by storm once again as a team. On their way to fashion super-stardom they will have to out-style and out-show Jojo's former assistant Claudio Maximiro who has apparently grown too big for his boots running his own styling business.
To create the winning runway looks you'll have to do everything from choosing the models' facial features, hair and skin tones, accessories and outfits at Fashion Weeks all over the world, including London, Sydney, Milan, New York, Tokyo and Paris. To win at each stage you'll need to score three or more out of five stars from the judges, so the outfits you mix and match will have to be both creative and stylish and put together in time for each model before she steps on to the runway. The more your style ensembles wow the crowds and inspire the fashion photographers, the better your score will be. So what do you say, think you can help Jojo and Rosalind conquer the fashion world?
Download
Jojo's Fashion Show
for FREE and enjoy:
Assemble thousands of stylish outfits 35 unique fashion styles to match.
Create and save outfits in Dress-up Mode.
Brain- and reflex-intensive puzzles.