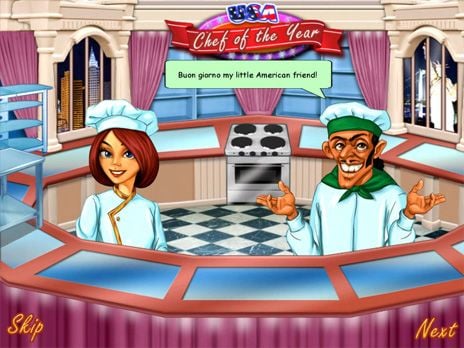 Go-Go Gourmet, the innovative Hidden Object and
Time Management
game hybrid, is back in a thrilling and challenging new sequel,
Go-Go Gourmet: Chef of the Year
. Players once again assume the role of Ginger, a starry-eyed young chef, who is competing for fame and glory in the celebrated Chef of the Year contest. Matched against seven of the world´s best chefs, Ginger must prepare local specialties in seven countries in a bid for the coveted 1st Prize Cup.
The clock is always ticking and there is so much to do! Search the kitchen for the right ingredients, make sure your soups and sauces simmer, boil and thicken to perfection before time runs out or the judges lose patience!
Download and Play
Go-Go Gourmet: Chef of the Year
for FREE and enjoy:
Follow the hilarious, twisting storyline through 7 countries.
Prepare mouth-watering international recipes.
Earn power-ups to get an edge on the competition.
Earn expert points to unlock 7 delicious, printable recipes.
Unlock 21 fashionable cooking outfits for Ginger to wear.
Unlock all 105 mouth-watering menu items.
Play challenging and fun new mini-games.
Search, sauté, and serve your way to 1st place.
Similar Games

Go Go Gourmet

Snow Globe

Youda Survivor

Jo's Dream: Organic Coffee