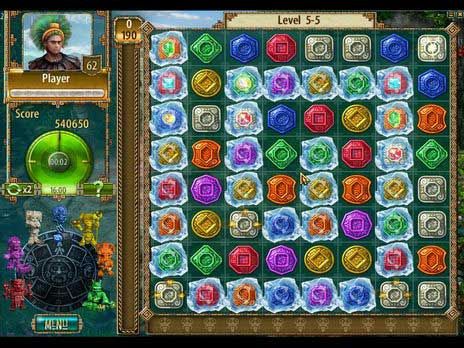 Like its super popular predecessor,
The Treasures of Montezuma 2
is a
Match 3
game that requires you to solve a series of puzzles by swapping different-colored tiles to create matches of three to five same-colored tiles. The faster you can create multiple matches in quick succession, the more impressive your tile-matching combos and score frenzies, and the more powerful the power-ups you can earn to help you along. All of this must be accomplished within a set time limit or you'll have to start the level all over again.
The game starts out with as few as 15 gems to collect, but as you progress through the game the number of gems to collect increases so you'll have to be quick to beat the timer. The game's "store" is also different from the original. Rather than earning golden stars for completing each level, you are awarded gold coins. The better you play, the faster you can earn items and upgrades. There are also lots of achievements and trophies to unlock along the way.
Download
The Treasures of Montezuma 2
for FREE and enjoy:
120 Adventure Mode levels.
2 new modes of play: Puzzle and Endless.
40 Puzzle Mode levels.
Unlockable Endless Mode.
Three difficulty levels.
Male and female playable characters.