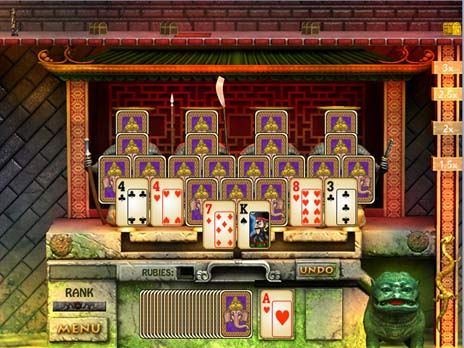 Join Tex and Ally Carter as they journey around the world in an attempt to locate a cursed ring. Travel to China, India and Easter Island, avoid hazards and collect artifacts in this fast-paced solitaire favorite. Complete
Card/Casino
game hands while dodging dangers, collecting artifacts, and exploring hidden temple sites. Collect valuable rubies for Pachinko-style bonus games. Earn ranks, badges, custom outfits, and backgrounds. Play alone or team up with 19 other players in
Tri-Peaks 2: Quest for the Ruby Ring
. You'll love the culturally-themed musical scores and beautiful audio-visual craftsmanship.
Download and Play
Tri-Peaks 2: Quest for the Ruby Ring
for FREE and enjoy:
6 beautifully illustrated card backs and 5 exotic locates.
Play in traditional 3 peaks or the new challenging 4 peaks.
Earn a 7 card streak and unlock a ruby for the Pachinko-style bonus round.
Discover 5 unique bonus game layouts.