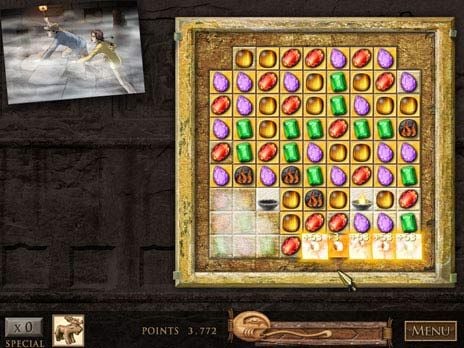 Follow the travels and travails of intrepid explorer, Percy Pack, in Jewel Quest®: The Sleepless Star. On a quest for a jewel called the Sleepless Star, Percy discovers that the jewel has been stolen from a Native American village by an unscrupulous jewel collector.
Along with Percy and a beautiful Algonquin named Yellow Feather, travel to exotic locations on two continents and overcome dangers at every turn, in an effort to recover the jewel. Solve over 150 jewel board puzzles, including never-before-seen obstacle puzzles. Progress through a beautifully illustrated and fully voice-acted story that includes collectible power-ups and quest options filled with your favorite classic Jewel Quest® games.
This Jewel Quest®: The Sleepless Star Collector´s Edition features: 3 extra jewel boards in every chapter; access to a 7th chapter, consisting of 40 premium jewel boards; extra collectibles and bonus quests, a detailed strategy guide and game concept art, as well as desktop wallpapers and screensavers.
Experience the deepest adventure-romance story of any Jewel Quest game to date, with speaking characters and gorgeous artwork
Play more than 150 all-new Jewel Board puzzles
Travel to exotic locales around the world
Solve "obstacle puzzles" to make the story unfold
Collect 14 Native American relics that add special powers