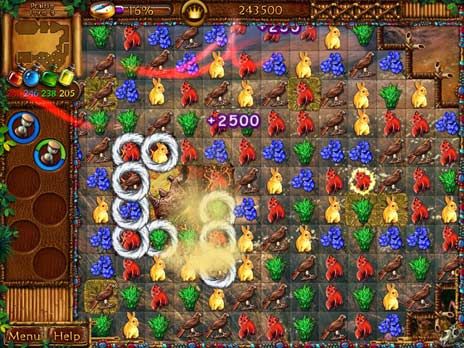 Uncover the secrets...to escape.
When an exciting excursion goes terribly wrong, Jake, a marine geologist, finds himself on a journey of survival in this adventurous
Puzzle/Match 3
game twist. Shipwrecked on a mysterious island, he quickly discovers he is not alone. Join other captives in their quest for freedom as they reveal the evil secrets possessing this puzzling paradise. Help Jake unlock necessary tools, collect resources, rescue spellbound wildlife and break a wicked curse, or become the island's next victim. Desperate to return home after months at sea, Jake's efforts to escape continue to be thwarted by
Vesuvia
's malevolent forces. Uncover the secrets behind this strange land as you discover you are not the island's first prisoner. Find old notes, lost journals, recorded messages and reliable evidence from survivors who have come before. Where did they go? Where are they now? With limited time, only Jake holds the key to finding a way out!
Choose to follow the story in Quest Mode, or get a quick 60-second blast of fun by playing Frenzy Mode where you can rack up high scores, match special symbols and uncover bonuses.
Download and Play
Vesuvia
for FREE and enjoy:
Choose Quest Mode for timed or untimed play and Frenzy Mode for a short burst of fun.
Play through beautiful & natural settings as you uncover the secrets of Vesuvia.
Earn power-ups, collect equipment, uncover clues and find a way home.
Explore this Match-3 twist where every match directs movement across the board.
Endless replay of any level to improve your score.