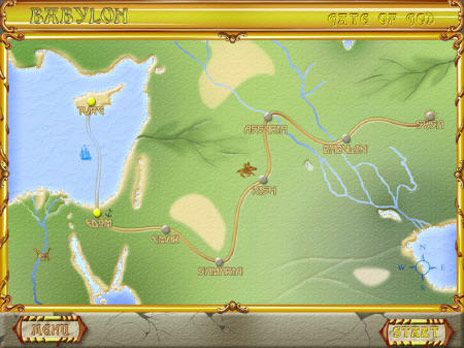 Atlantis Quest
takes you on an exciting adventure around the ancient lands of the Mediterranean with the ultimate goal of finding the legendary lost continent of Atlantis. As an archaeologist exploring each country, your job is to collect fragments of precious artifacts - like Nebuchadnezzar's shield for example - that once assembled, will reveal clues to your next location and bring you one step closer to finding the mystical city of Atlantis!
Atlantis Quest
is based on classic matching game mechanics with a new twist, making this seemingly familiar
Match-3
game extremely addictive. To free the artifact fragments you must bring them down to the bottom of the grid. There are also several bonus artifacts you can retrieve to increase the time limit, smash artifacts, etc. As you follow the riveting storyline, your journey will take you across 76 explosive levels with impressive power-ups to help you progress through the game.