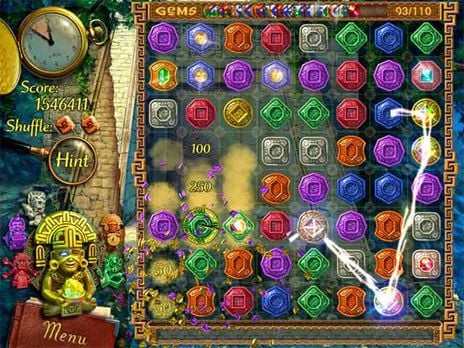 The
Treasures of Montezuma
is a breathtaking
Puzzle-Match-3
game that will have you hypnotized by a magical challenge. The game will call on you to help the beautiful Dr. Emily Jones piece together clues that have remained undiscovered for many years in the Archaeological Museum in Cancun, Mexico.
Your challenge in The
Treasures of Montezuma
is to group colorful gem-clustered tokens and watch them disappear, leaving behind only the gems. As you race against the clock to match more tokens and collect more gems, you'll accumulate Power Totems that unleash powerful chain reactions and help you get further in the game.
The clues you collect throughout The
Treasures of Montezuma
will ultimately bring you closer to finding a secret Azetc city, said to be the final resting place of Montezuma's Calendar, a supernatural relic that granted its possessor a long life!
Download The
Treasures of Montezuma
now for FREE and enjoy:
41 levels across five episodes
Four bonus games (eight bonus levels)
Six bonuses to use
Seven Power Totems to activate
Nine trophies to earn
A stunning musical soundtrack