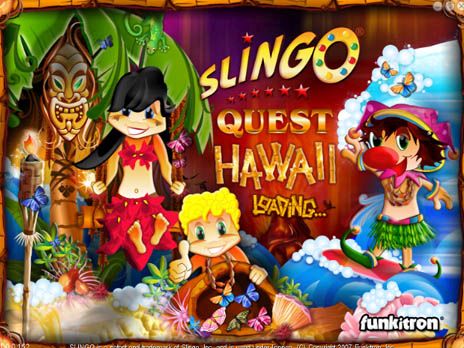 Slingo Quest Hawaii
combines the addictive games of slots and bingo so well, that
Card/Casino
game fan will find it positively irresistible. The basic gameplay principles of this game are similar to all the other titles in the runaway smash hit Slingo series: Several randomized spheres appear beneath a grid-shaped, bingo-style card filled with numbers lurking above. With just 20 spins, you must pair as many of these digits with figures contained in the column directly above them in order to create horizontal, vertical, diagonal or patterned matches (slingos) that stretch across the entire board.
The game is beautifully designed with tropical-themed settings ranging from coral reefs and sunken ships to all manner of exotic islands and the animations are super vibrant. While the objective of the game is easy enough to grasp even for Slingo first-timers, the game will certainly challenge as new twists and power-ups are added while you play.
Whether you have no idea what a Slingo game is all about or whether you're a long-time Slingo fanatic, if you think you might enjoy casino-style games based on slots and bingo, then
Slingo Quest Hawaii
is sure to entertain for hours and hours and hours and hours…
Download
Slingo Quest Hawaii
for FREE and enjoy:
Summon jokers, gold coins, pattern matches and more new tricks.
Speed Slingo, Volcano Slingo and other new game modes.
60 levels of Slingo fun.
Sequel to the hit-seller Win in-game postcards.
Unlimited Play.
Similar Games

Slingo Quest

Slingo Quest: Amazon

Slingo Supreme

Pirate Solitaire