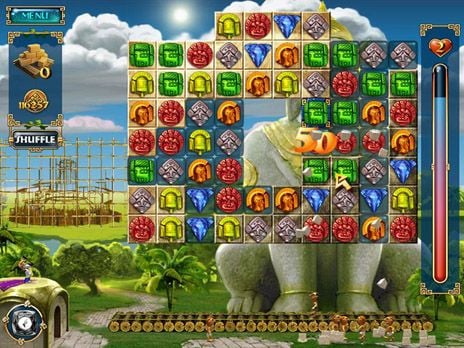 7 Wonders 2
is a highly addictive
Match 3
game that transports you back in time to help workers construct world-famous buildings, monuments and structures, such as Stone Henge, The Great Wall of China, Angkor Wat and the Shwedagon Pagoda.
In each of the seven locations in the game, you must swap adjacent runes on a grid to make sets of three or more runes. Each time you match sets of runes, they break into stones that fall into the waiting arms of workers below, who then use them to construct the Wonders.
The game features exciting power-ups and bonuses that can be earned along the way to help clear the board, maneuver an essential cornerstone to the bottom of the grid and receive pieces of a hidden map, which will ultimately uncover a secret route!
Download
7 Wonders 2
now for FREE and enjoy:
A hypnotic, beautiful and challenging game with beautiful graphics and captivating music.
Explore, learn about and build 7 new Wonders.
Explosive new power-ups such as the Single Cell Bomb and Timer Freeze.
Use a new shuffle option to refresh the board and keep the game moving.