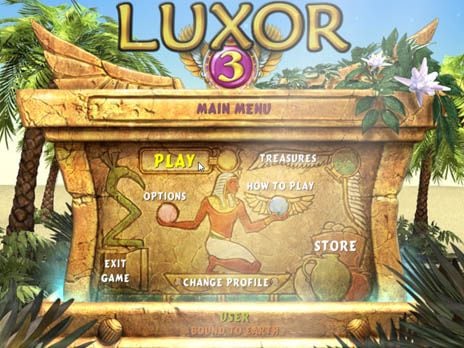 Journey with a brave young Pharaoh - killed prematurely by a fierce sandstorm and embodied by the gods as a winged scarab hunter - as he battles the powerful god of Chaos to free the essences of other Egyptian gods contained within colorful magical spheres. All the gods must be freed from captivity before they reach the pyramid at the end of their path, or all is forever lost.

Stop the procession of approaching spheres by matching three as they randomly journey through the maze branching into splitting paths and sometimes merging again. Match three directly, or bounce spheres off of reflectors, to reach previously inaccessible points.To succeed in your mission, you´ll have to call on gods to release supernatural power-ups.

LUXOR 3 provides more than four unique game modes, original music, enhanced animation and even more spectacular effects than ever before. Whether you are returning to LUXOR or new to the game, you won't want to miss the engaging, heart-pounding thrill that is LUXOR 3: Treasures of the Afterlife!
Similar Games

Luxor

Luxor 2

LUXOR - 5th Passage

Bengal