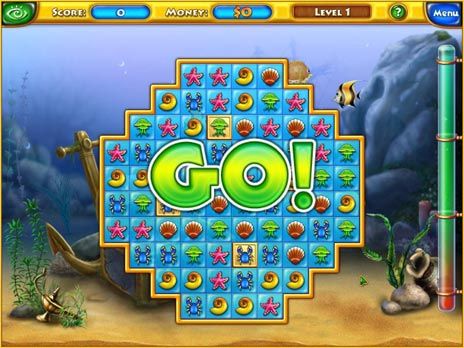 Solve immersive puzzles in
Fishdom
and progress through challenging
Match 3
levels to earn cash which you can then use to buy gorgeous looking tropical fish and attractive ornaments for your dream aquarium! As you keep earning, you'll have opportunities to buy more accessories and supplies to create the perfect conditions for your new aquatic pets. Win awards and upgrade your virtual tank as you perfect your aquarium design skills. There are three uniquely themed tanks to complete, including Pirate's Treasure, Coral Reef and Lost Atlantis. You can even use any of your tanks as a screen saver!
Download
Fishdom
for FREE and enjoy:
An interactive virtual environment that is fully customizable.
Almost 100 items and accessories to choose from.
Unlimited replayability.
Create an award-winning aquarium of your dreams.
Create your own aquarium screensavers!