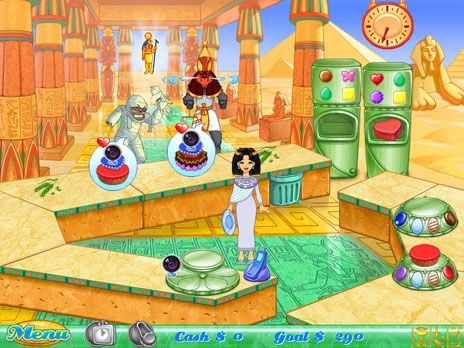 In
Cake Mania 3
, we rejoin Jill Evans just a few days before the biggest day of her life: Her wedding! With the preparations at their peak, disaster strikes when a Time Bender artifact accidentally shatters into pieces, sending her family and friends back in time after each of them tries to grab on to an artifact fragment in an attempt to reassemble it. With each of them now lost in a different historical period, Jill must use the last remaining artifact fragment to travel back in time herself, find all her loved ones and bring them back by doing what she does best: Baking cakes!
Help Jill as she bakes her way through ancient China, Olde England, revolutionary France, ancient Egypt and the Stone Age, serving cakes to a host of interesting characters. Just as in the first 2 installments of this beloved
Time Management
series: You must make all manner of cakes for the customers while maintaining top-notch customer service. As the game progresses, the customer orders will become more sophisticated so you'll have to be quick on your feet to keep up. You can also use the money you earn to buy all sorts of upgrades for your shop.
Will Jill manage to find all of her loved ones and bring them back in time for her big day? There's only one way to find out!
Download
Cake Mania 3
, for FREE and enjoy:
Access to new bonus levels, customers and outfits.
Over 350 possible level combinations.
More than 30 hilarious new customers.
All-new power-ups, kitchen upgrades and customizable bakeries.
>