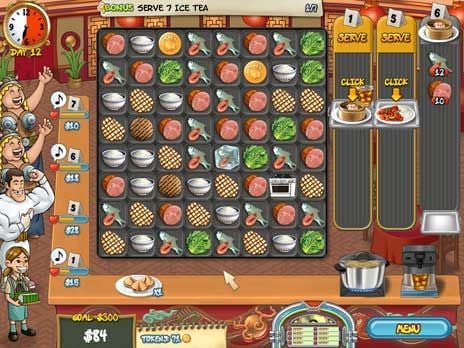 Heidi has graduated from Burger Rush, and now she´s on a quest to become a world famous chef. The pressure cooker´s on to create fabulous dishes in her cooking school. Grease the skillet and prepare 50 international recipes like Filet Mignon, Dim Sum, and Pizza Marinara.
Visit the new Farmer´s Market for fresh ingredients and use the jukebox to help customers like Supergeek feel right at home. Restaurant Rush combines innovative Match 3 game-play with Time Management strategy in 80 mouthwatering levels!
Download Restaurant Rush for FREE and enjoy:
More than 80 levels in 2 Game Modes.
More than 11 new zany customers.
Cook more than 50 international recipes such as Filet Mignon, Dim Sum, Pizza Marinara.
Upgrade ingredients in the Farmer´s Market to boost a recipe´s value.
Multiple endings - Heidi´s story will be affected by how well you play the game.
Similar Games

Burger shop 2

Snow Globe

Youda Survivor

Jo's Dream: Organic Coffee