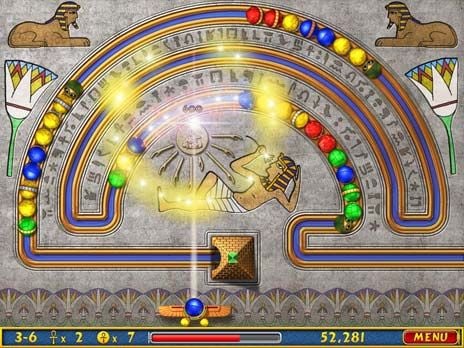 Glory and adventure await as you return to save ancient Egypt from certain doom in Luxor: Amun Rising. The sequel to the runaway hit game, you must defeat the rebellious princes of Megiddo before they overthrow the pharaoh and plunge the two lands into chaos! Once again, the challenge will not be an easy one as you battle through 88 awesome, all-new levels. You must use your mystical winged scarab to destroy the approaching colored spheres. Stop them all before they can reach the pyramids at the ends of the paths… or all of Egypt is doomed!
88 explosive new levels.
All new quest map of Egyptian locations.
Exciting new Scorpion power-up.
3 difficulty levels for players of different skill sets.
Similar Games

Luxor

LUXOR - 5th Passage

Chameleon Gems

Luxor Mahjong