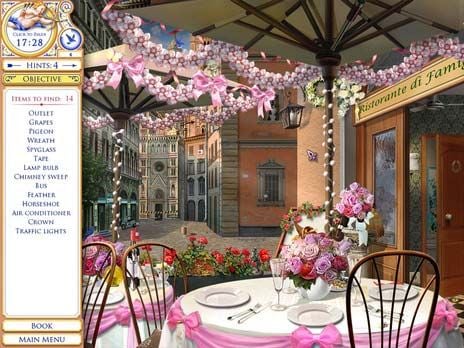 Light the candles and set the mood as your flourishing business takes you overseas to orchestrate the flawless details for a bellissimo couple. From the perfect proposal to cutting of the cake, uncover hidden items as you visit famous Italian landmarks, explore historic works of art, and restore tender memories bringing this charming adventure to life.
Sixth in the Dream Day series of PC games, Bella Italia delivers more exquisite adventure as you travel abroad for the very first time. Explore the beauty of Florence and an enchanting family villa in the Tuscan countryside. Immerse yourself in amore as you find over 3,000 items to create the romance of a lifetime.
Download and Play
Dream Day Wedding: Bella Italia
for FREE and enjoy:
Escape to the romance of Italy through 77 exquisite locations in 54 stunning levels.
Explore famous works of art from Botticelli and Piero della Francesca while listening to classic Italian opera bringing you a true taste of Italy.
A challenging twist for the seek & find enthusiast with up to 100 items to find in every scene.
5 variations of Hidden Object game play, 9 styles of mini-games and 6 Adventure/Escape puzzles.
Unlock a BONUS level of difficulty, challenging even the sharpest eye.
Enjoy creating wedding magic for the bride including the engagement ring, bouquet, gown, and more.