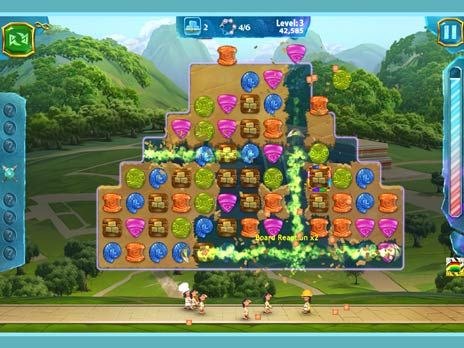 The long-standing 7 Wonders series keeps getting better and better! The fifth installment, 7 Wonders: Ancient Alien Makeover, adds an entirely new game component, new Wonders and a new and exciting material - Alien Energy!
The goal is still to construct exciting new Wonders by swapping same-colored runes to make matches of three or more to the tune of exploding bonuses. Make enough matches before time runs out to fill your arsenal with power-ups and the materials needed to complete your Wonders before your very eyes. As you complete each game board, bricks, water, gems, landscape, and now - Alien Energy! Excel and face bonus levels that take you deep below the earth's surface to win materials like gold to adorn your Wonders.
There is also, for the first time, a secondary game component to build a village. Mini-games rewards players with buildings and decorations to create their own village. Build all 7 Wonders and then unlock a magical 8th location, Nazca Valley. New game play and new Wonders await in Ancient Alien Makeover!
New "alien energy" construction material
New village component
4 difficulty modes including "Zen" which has no timer