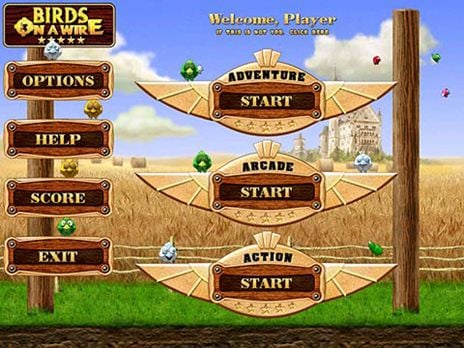 The objective of
Birds on a Wire
is simple at first: Fire at multicolored lines of advancing birds with equally colorful ammo (which are also birds). Once you match three or more birds of the same color, they disappear, advancing you one step closer to victory.
Challenges in this
Arcade
game that will keep you on your toes include logs that block your shots as well as multiple wires that require you to create a gap in a line of birds so you can shoot those behind them. However, bonus perks that slow down the birds, eliminate entire lines or all birds of a same color etc. prevent the game from becoming frustratingly difficult. The ability to bounce your ammo off walls also adds a nice, strategic element to the game.
A charming, cute interface, as well as engaging gameplay makes
Birds on a Wire
a highly entertaining
Arcade
game with touches of Match 3 gameplay.
Download
Birds on a Wire
for FREE and enjoy:
3 different game modes
Mind-blowing levels on each game mode
Unique power-ups
Creative sounds and music
Similar Games

Chameleon Gems

LUXOR - 5th Passage

Evy: Magic Spheres

Bengal