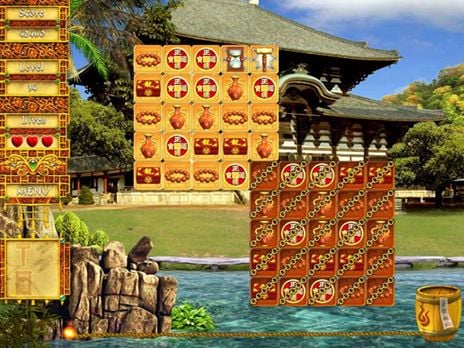 10 Talismans
is a
Match 3
game set to stunning oriental vistas and peaceful soundtrack of classic Asian melodies. Your quest in this game is to collect ten powerful talismans, said to bring wisdom, power, and fortune. To unlock the talismans you must clear the enchanted golden tiles off the game board by matching swords, Tibetan coins, lanterns, bells, gongs, scrolls and other relics into groups of three or more.
10 Talismans
is a game of speed, skill, and strategy as you race against the wick that's burning to a barrel of gunpowder at the bottom of the screen. If it reaches the powder keg - time's up! Although your quest will be laden with obstacles such as brown tiles that need to be cleared twice and items that are chained down, you'll also have power-ups and special items to help you reach your goal.
Download
10 Talismans
now for FREE and enjoy:
Over 80 puzzling levels.
Explosive power-ups.
Stunning oriental-themed backgrounds.
A soothing soundtrack of classic Asian melodies.
Two game modes: Classic and Timeless.