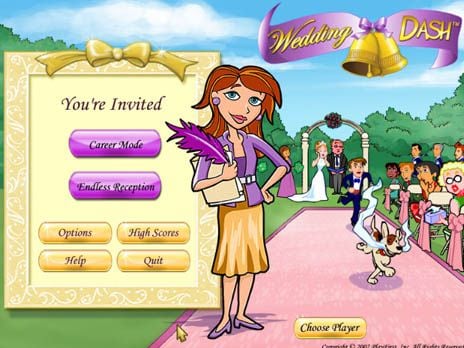 In the popular
Time Management
Diner Dash series we met the hard-working and loveable Flo. Now in the spin-off
Wedding Dash
series, we meet Flo's bestie, Wedding Planner Quinn. Your job in Wedding Dash is to help Quinn plan and pull off a series of weddings without a hitch, which is no easy feat considering all the little details to take care of.
At each wedding reception you will need to master seating all sorts of wedding guest types in their table of choice (good luck with that), serving their 3 course meals, distributing their gifts to the bride and groom, managing the DJ's playlist, and putting out "fires" like a catfight between two bridesmaids, tipsy guests causing a racket and emotional relatives who can't stop bawling. Just your typical wedding stuff!
If you perform your tasks well, you'll be hired to coordinate more weddings in a variety of venues, such as a ballroom, cruise ship, castle and exotic island. You can also earn money with which to buy upgrades like bigger tables, more efficient staff and better food. In short, it's hours of entertaining, fast-paced wedding mayhem!
Download
Wedding Dash
for FREE and enjoy:
Well written, funny storyline.
Many types of guests, incidences, venues and upgrades.
2 modes: Career, Endless Reception.
50 levels of gameplay.
10 different guest types, 9 wedding mishaps to overcome.