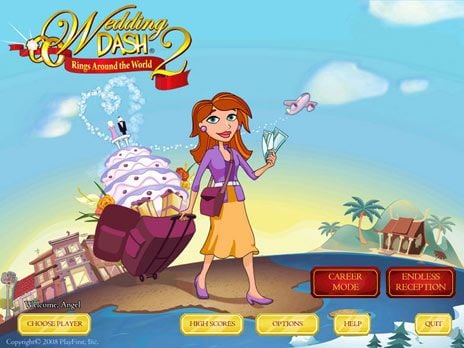 In the
Time Management
game
Wedding Dash 2: Rings Around the World
, we rejoin wedding planner extraordinaire Quinn, just as she receives a tempting offer from a billionaire who has been following her shining career. The offer is to participate in a reality TV show that challenges a group of wedding planners to compete against each other for the opportunity to plan his daughter's exclusive wedding!
Not one to shy away from a juicy challenge, Quinn must once again manage weddings in various locations around the world, each with its own theme. Before each wedding begins she must read the couple's specific requests for the reception including choice of menu, cake style, floral arrangements, transportation to the event, decorations, etc.
Just like in the original Wedding Dash, Quinn must seat the colorful (and often hilarious) guests, serve them their 3-course meal, distribute their gifts to the bride and groom, and take care of all the usual wedding dramas like choking guests and screaming kids. This time around, she must also deal with acts of sabotage by the other contestants on the show! If you can help her make the minimum amount of money from each wedding, you can advance to the next level of the game and Quinn's next wedding.
Download
Wedding Dash 2: Rings Around the World
for FREE and enjoy:
2 modes: Story and Endless Game.
50 new levels of riotous game play.
Bridezilla now joined by the all-new Groom-Kong.
Photographer on hand to take pictures on request.
5 exciting new environments.