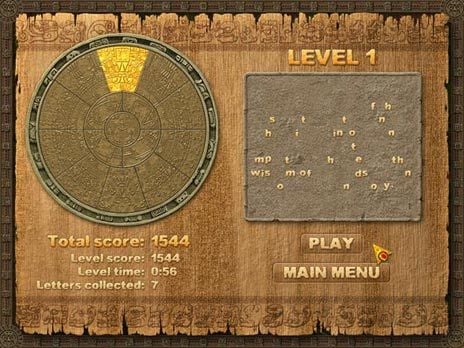 In the unique
Puzzle/Match 3
game
Azteca
, your challenge is to save the ancient Aztec civilization by uncovering words of wisdom its gods secretly seared into stone. Your mission is to remove 3 or more of the colored rocks that have letters stamped on them to spell magical words. If you can manage to remove four stones at a time, you'll get a power-up bonus like explosive stones. As you spell out the words you will also uncover hidden messages between each mission, but you'll have to do it all against the clock!
Azteca
captivates with its sparkling, glittery screens screen, and its timed levels will prove addictive as they challenge you to race against the clock to complete each level. With 150 levels, rewarding power-ups and increasing levels of difficulty as you progress through the game,
Azteca
will both entertain and mesmerize as your delve deep into the lore and mythology of a fascinating culture.
Download
Azteca
for FREE and enjoy:
150 beautifully designed levels.
Varied and different power-ups.
Progressive game difficulty.