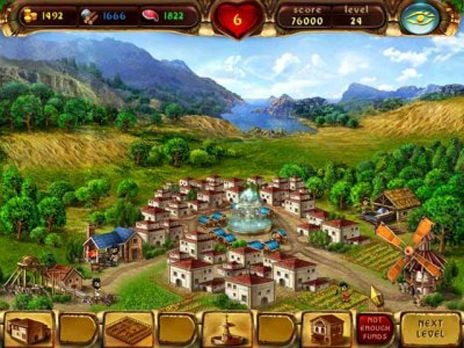 When in Rome, you do as the Romans do. But when in
Cradle of Rome
, the cradle of civilization itself, you do as the Ancient Romans did and build the most legendary city of all time - from scratch!
Cradle of Rome is an epic and wonderfully addictive
Match 3
game that will see you swapping wood and gold for the resources you need to build classic Roman structures between levels.
The game may have you start humbly, but with sensible use of your materials, you'll soon construct some of the most magnificent structures the world has ever seen, like the Coliseum, the Pantheon and more! You'll have eight bonuses to help you along the way, like hammers that can break locked tiles and an hourglass that gives you extra time to complete the current level. For particularly nice play you'll even be awarded extra workers to help you complete your mammoth task.
Cradle of Rome
is full of challenges and there will also be puzzles to solve as you toil, but as the city grows, its citizens will proclaim you Emperor and a Head Priest will consider a worthy tribute to your glory. So what are you waiting for? Play
Cradle of Rome
now and get in the game of building magnificent Empires!
Download
Cradle of Rome
now for FREE and enjoy:
More than 20 famous Ancient Roman structures to build .
A challenging ranking system that lets you work your way up to the Emperor of Rome!
Over 100 levels to get through as you conquer your way to the legendary Mount Olympus.
Eight original bonuses to utilize.