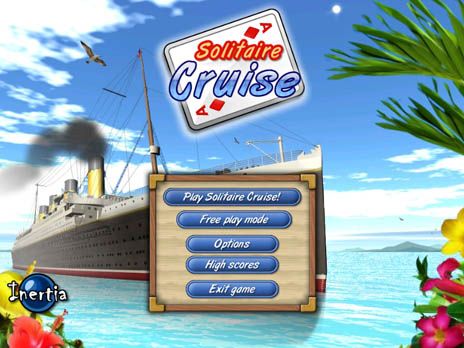 Set sail around the world in the luxury cruise liner Britannic and visit ten different countries playing rounds of solitaire at each port! Only in
Solitaire Cruise
, the gameplay is a little different.
In traditional solitaire, the aim of the game is to arrange cards on top of each other in descending order in alternating black or red suits until each suit is arranged from low to high in four piles starting with the Ace of each suit.
Solitaire Cruise
is different, however, because although it uses regular playing cards, the gameplay is more reminiscent of a Mahjong tile-matching game. To progress through the game (200 levels in all), you must clear cards from the playing area by matching them in pairs of the same value, for example Queen with Queen, 4 with 4, etc.
The cards in
Solitaire Cruise
display designs pertaining to wherever the cruise ship is sailing to next. For example stars and stripes and Liberty Bell in the USA, the Amazon River in Brazil, Buckingham Palace and the crown jewels in Britain, a pyramid in Egypt etc. So if you're a fan of card games and Mah Jong, then you'll get your fill of both in
Solitaire Cruise
.
Download
Solitaire Cruise
for FREE and enjoy:
Play Solitaire in countries all around the world, each location is unique.
Unlock over 200 card layouts as you play through the main game.
Each location you visit has its own rich visual theme and music.
Play any layouts you unlock in the Free-Play mode.