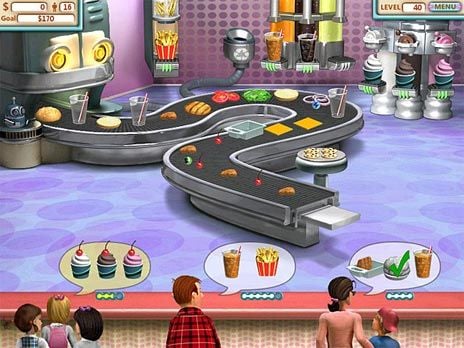 Burger Shop
begins with you receiving some blueprints in the mail for a mysterious machine, which after building, you discover to be a BurgerTron 2000, an impressive robot chef that can load all manner of ingredients on to a conveyor belt with which you can then create mouthwatering burgers. Realizing the potential of this new wonder, you set out to open your very own burger joint.
In this deliciously fast-paced
Time Management
game, you must serve customers by clicking on the necessary ingredients to create whatever they have ordered. Your aim is to create the food and deliver it as efficiently as possible so that you don't keep customers waiting too long. After all, happy customers mean a nice tip, and you'll need those tips to raise money to upgrade your restaurant with new ingredients to add new dishes to the menu, new equipment and décor to improve your restaurant's efficiency and appearance, and eventually enough money to invest in new restaurants and expand your empire.
With an upgrade available after almost each of Burger Shop's 80+ levels, and a total of 8 restaurants to run (each with its own theme and cast of regular customers) the game gets pretty challenging - and also more fun - the longer you play. So what do you say, think you've got what it takes to make it as a fast-food mogul?
Download
Burger Shop
for FREE and enjoy:
Four game modes: Story, Challenge, Relax, and Expert Story
Over 50 food items to make
Eight unique restaurants to run
96 different trophies to earn
60 upgrade items
Similar Games

Burger shop 2

Island Tribe 3

Turbo Subs

Burger shop 2