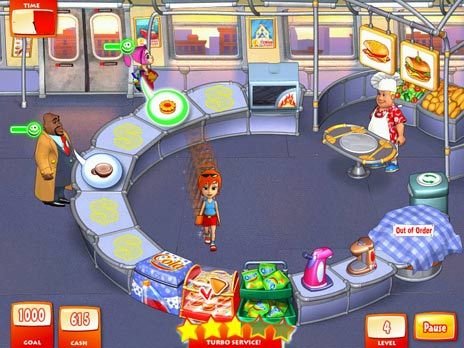 A super-charged sequel to the hit
Time Management
game Turbo Pizza,
Turbo Subs
is twice the fun, twice the challenge, with twice as much speed.
Hit the kitchen running as Rebecca and Robert continue their pursuit of building the greatest restaurant franchise in town. Except now they find themselves in a much bigger town, New York City. In this
Time Management
game, Robert and Rebecca's Aunty Rhonda surprises them with an old subway car transformed into a sub shop. Robert learns how to make all kinds of sandwiches and Rebecca tends to the swarm of growing customers.
With loads of upgrades, secret sauces, and unique tastes,
Turbo Subs
is a delicious new adventure for the whole family.
Download and Play
Turbo Subs
for FREE and enjoy:
Race through 60 levels of fast food fun.
Sling subs in 3 whimsical New York City locations.
Take a break with 6 seek-and-find mini-games.
Overcome new obstacles and challenges, including tough new customers and sneaky thieves.
Similar Games

Turbo Fiesta

Turbo Pizza

Island Tribe 3

Turbo Subs